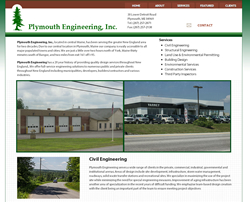 Mobile phone and tablet use is now a consideration when designing web sites. According to my Analytics data, about 25% of visits are done using a mobile device.
A fluid, responsive website design (like was done for Plymouth Engineering, Inc) allows you to use the same content for your desktop version as for a mobile phone. As the browser window size gets smaller, the elements to the website re-arrange and shrink down accordingly.
Call 207-992-3352 to get a free website evaluation.
Related Projects