Description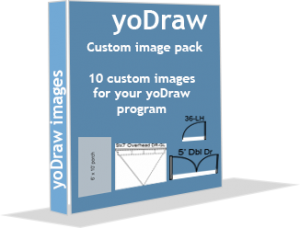 With this custom image pack, we'll design up to 10 images for you to use in your yoDraw mini barn drawing program and add them to the software for you in the right place in the program.
This image pack is  for those who don't have a regular graphics person or don't want to wait for them to get it done. We combine the graphics and the programming to get it done painlessly for you.
You may have stairs, dormers, special door sizes, etc. that you need for your application.
What you get:
Up to 10 custom images in Photoshop format as well as png with transparent background.
Images sized correctly in order to give proper dimensions in the program.
Changes to the yoDraw code to make the images display in the right way in the program.
What we need:
A list of items that you need drawn with width, length, and short item name (email is fine for this). Please keep names short as they're part of the drawing and can't take up much space.
Access to server – FTP host name, username, and password or,
We can change the file and have you  or your web person upload the file for you.
Questions? email me, Doug –  mainegraphics@gmail.com